Bueng Kaen Nakhon
a large lake in the centre of Khon Kaen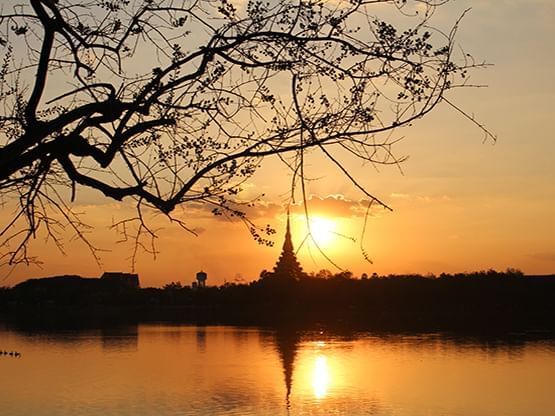 Bueng Kaen Nakhon, formerly known as Bueng Chim or Bueng Bon, is a large lake in the centre of Khon Kaen and is one of the important landmarks of the Khon Kaen Province. Located within the municipality of Khon Kaen city, the area of Bueng Kaen Nakhon is over 238.41 acres. Built as a place for relaxation and recreational activities, the surrounding area has been renovated to become a healthy garden.
Bueng Kaen Nakhon is decorated with various sculptures, including the Phra Mahathat Kaen Nakhon (Buddha's relics, a 9-floor Phra That), the bridge over Bueng Kaen Nakhon, the Bueng Kaen Nakhon Public Park, a running track, and a viewpoint on the water featuring two dinosaur skeletons (the herbivorous dinosaurs Phu Wiang Kosaurus Sirindhorne) as well as a statue of Chao Phia Mueang Pan, the founder of the Khon Kaen province.
How to get to Bueng Kaen Nakhon?
Plane: Travel from Don Muang Airport and Suvarnabhumi Airport to Khon Kaen airport takes about 1 hour.
Private car: 450 kilometres from Bangkok to Khon Kaen with a duration of 6 hours
Train: From Bangkok to Bueng Kaen Nakhon is located on the road around Khon Kaen Municipality's lake.
In addition to travelling by private car, you can also take Minibus No. 8 and No.13 to go to Bueng Kaen Nakhon with a minibus passenger price of 10 baht
Bueng Kaen Nakhon opening hours
Open daily: 06:00 - 21:00 hrs.
Bueng Kaen Nakhon admission fees
Looking for a hotel nearby Bueng Kaen Nakhon?
Finding a budget hotel close to Bueng Kaen Nakhon, while travelling in Khon Kaen, Thailand. At HOP INN hotel is a perfect place for your dream of planning a trip to Thailand on a budget.
Discover the best value for budget trips at HOP INN Hotels - the budget hotel network in Thailand, that offer affordable prices and comfortable accommodations, including comfortable beds, complimentary high-speed WiFi, and ample parking for business and leisure travellers. Stay in the heart of every province of Thailand with HOP INN - Where your good days begin!