The Bridge over the River Kwai
a popular tourist destination in Kanchanaburi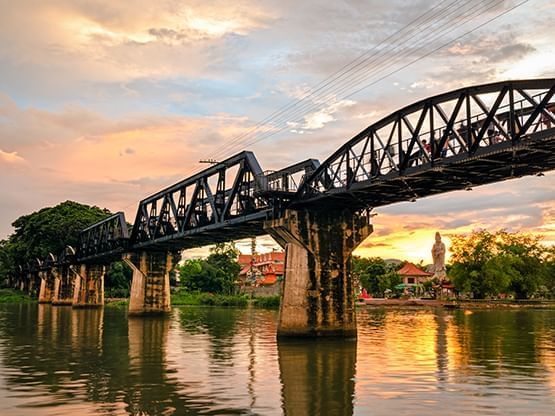 The Bridge over the River Kwai in Kanchanaburi, Thailand is situated in the town of Kanchanaburi, approximately 130 kilometres west of Bangkok. The bridge was originally constructed during World War II by Asian conscripts and prisoners of war, as part of the construction of the Burma Railway. The original wooden bridge was destroyed during the war and was rebuilt in 1943.
Today, The Bridge over the River Kwai is a popular tourist destination in Kanchanaburi and is a part of the Death Railway Museum. Tourists can take a walk across the bridge and learn about the railway's history.
Planning a trip to The Bridge over the River Kwai on a budget?
Finding a budget hotel close to The Bridge over the River Kwai, while travelling in Kanchanaburi, Thailand. At HOP INN hotel is a perfect place for your dream of planning a trip to Thailand on a budget.
HOP INN Kanchanaburi is 6.3 kilometres from The Bridge over the River Kwai, which takes about 15 minutes.
Discover the best value for budget trips at HOP INN Hotels - the budget hotel network in Thailand, that offer affordable prices and comfortable accommodations, including comfortable beds, complimentary high-speed WiFi, and ample parking for business and leisure travellers. Stay in the heart of every province of Thailand with HOP INN - Where your good days begin!