Suvarnabhumi Airport
Fly into Suvarnabhumi Airport and Stay at HOP INN: Your Budget-Friendly Hotel Nearby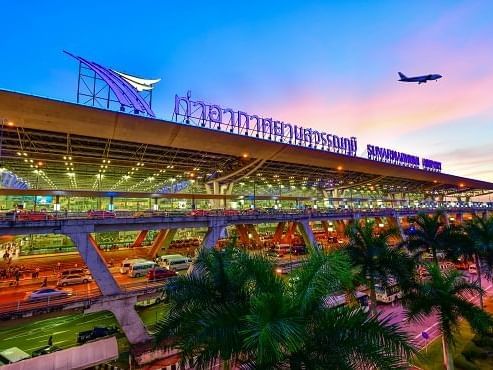 Suvarnabhumi Airport, also known as Suvarnabhumi International Airport, is located on Debaratana Road and Burapha Withi Expressway in the Nong Prue and Racha Thewa Subdistricts, Bang Phli District, Samut Prakan Province. Approximately 25 kilometres from the centre of Bangkok, Suvarnabhumi Airport is the largest airport in Thailand with the highest number of airlines. It is considered an aviation hub in Southeast Asia that connects air transportation to various destinations around the world.
HOP INN hotel is the best budget-friendly hotel option located in the heart of Bangkok - just a short distance from all the city's famous attractions and a convenient choice for travellers looking to explore Bangkok on a budget.
How to Get to Suvarnabhumi Airport?
One of the main concerns for travellers is how to get to and from the airport, and we are happy to inform you that getting to Suvarnabhumi Airport from HOP INN is easy and convenient:
Taxis: Taxis are readily available outside the hotel and can take you directly to Suvarnabhumi Airport in about 30 minutes, depending on traffic. This is a convenient option for travellers with moderate to heavy luggage
Airport Rail Link: The nearest Airport Rail Link station is around 10 minutes away. Once you reach the station, it takes approximately 20 minutes to get to Suvarnabhumi Airport by train. This is a quick and comfortable option for travellers with minimal luggage.
Private Cars: We also have a private car service available for your convenience, which will take you directly to the airport without any stops on the way, ensuring your time is valuable.
Getting from Suvarnabhumi Airport to and from Don Mueang Airport is easy with the Airport Shuttle Bus service at the platform of Passenger Terminal 2nd Floor, Gate 3 from 05:00 - 24:00 hrs. (only for passengers with air tickets for travel)
Regardless of which transportation option you choose, we recommend allowing enough time to reach the airport, taking into account the traffic conditions. To ensure a stress-free journey, we recommend leaving the hotel at least 2-3 hours before your scheduled flight.
Are you looking for a budget hotel near Suvarnabhumi Airport?
If you're looking for a budget hotel near Suvarnabhumi Airport, HOP INN is a perfect choice. We offer standard budget rooms with comfortable beds, free high-speed internet service, and ample parking. Whether you're on a business trip or a vacation, our hotel is the perfect place for relaxation.
Discover the best value for budget trips at HOP INN Hotels - the budget hotel network in Thailand, that offer affordable prices and comfortable accommodations, including comfortable beds, complimentary high-speed WiFi, and ample parking for business and leisure travellers. Stay in the heart of every province of Thailand with HOP INN - Where your good days begin!