Mae Phra Patisonti Niramon Church
an old Christian church located in Chanthaburi, Thailand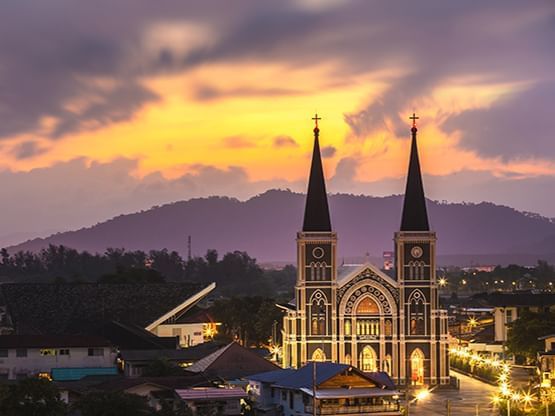 Mae Phra Patisonti Niramon Church, also known as the Cathedral of Immaculate Conception, is an old Christian church located in Chanthaburi, Thailand. Known for its unique architecture modelled after Notre Dame in France, the church boasts intricate wood carvings and stunning stained glass windows. Visitors can admire the statue of the Virgin Mary, a central figure in the Christian faith, and take in the beauty of the Gothic vihara, known as the Church of the Immaculate Conception, which is the centre of the Christian faith where is one of the major tourist attractions of Chanthaburi.
Looking for a hotel nearby Mae Phra Patisonti Niramon Church?
If you're looking for a budget-friendly hotel option near Mae Phra Patisonti Niramon Church, look no further than HOP INN Chanthaburi. Conveniently located in the heart of the city, HOP INN offers clean and comfortable standard rooms at an affordable price. You can enjoy amenities such as a comfortable bed, free high-speed internet, and ample parking, making it the perfect choice for both business and leisure travellers. Plan your next trip to Chanthaburi with HOP INN Chanthaburi and experience the best of both budget-friendly accommodation and easy access to the city's top attractions.