Bang Saen Beach
a sandy beach on the Gulf of Thailand, nearby Bangkok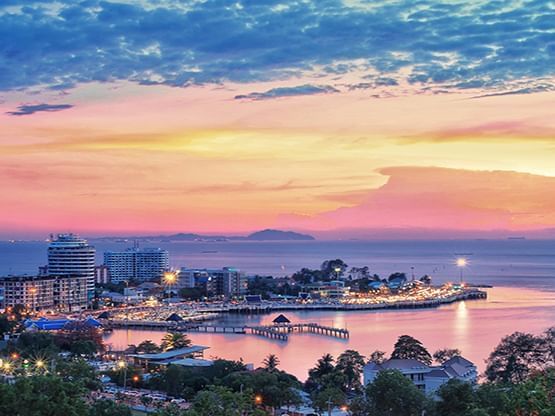 Bang Saen Beach is a popular destination located in the Chonburi province of Thailand. The beach is known for its long stretch of white sandy shores and clear blue waters, making it a popular spot for swimming, sunbathing, and water sports. The area also boasts a variety of seafood restaurants, street food vendors and local markets.

Bang Saen Beach is a popular destination for tourists who want to travel to the beach near Bangkok with a length of the beach, which is more than 2.5 kilometres along with a cycling path parallel between the road and the beach. Thus making Bang Saen Beach a favourite tourist destination for many people.
How to get to Bang Saen Beach?
Private car: Heading to Chonburi by using Bang Na Expressway via highway no.34 or the motorway Bangkok-Chonburi route new line
Van: Get on the van at the Mo Chit Bus Terminal (Chatuchak) or Eastern bus terminal (Ekkamai) to stop at Burapha University Hospital
Bus: Get on the bus at Mo Chit Bus Terminal (Chatuchak) or Eastern bus terminal (Ekkamai), stop at Nong Mon market then get on the red minibus to go to Bang Saen Beach
Bang Saen Beach is easily travelling you can drive along the beach. You can find a lot of fresh seafood from the restaurant around the beach, look for a chic cafe' and watch the sunset on the beach or if you find accommodation and chill for a night, we have our branches provided for you at HOP INN Chonburi
Looking for a hotel nearby Bang Saen Beach?
If you're planning a trip to Bang Saen Beach and looking for an affordable place to stay, HOP INN Chonburi is the perfect choice for you. Our hotel is located just a short drive from the beach, making it the perfect base for your beach vacation. Our hotel offers standard rooms at budget-friendly prices.
Our rooms are equipped with comfortable beds, free high-speed internet, and ample parking space for your convenience. Whether you're travelling for business or leisure, our hotel has everything you need for a comfortable and enjoyable stay.
In addition to the beach, there are many other attractions nearby to explore such as Wat Yan Temple, Wat Khao Sam Muk and Wat Yai Intharawihan. The hotel is also situated near the local market and street food vendors where you can find a variety of local food and souvenirs.
So why not make HOP INN Chonburi your choice for your next beach vacation? With our budget-friendly prices and convenient location near Bang Saen Beach, you're sure to have a great time while staying with us.