Wat Rong Khun
the most visited destination in Chiang Rai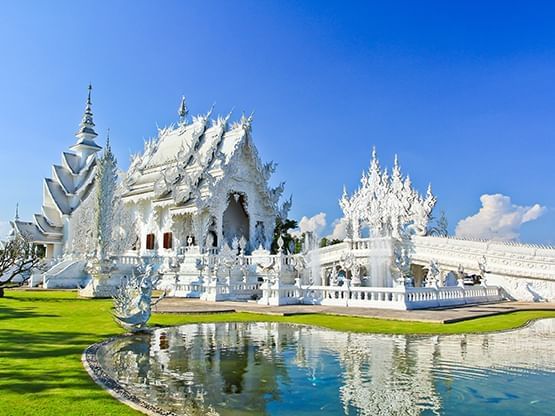 Wat Rong Khun, also known as the White Temple, is a contemporary Buddhist temple located in Chiang Rai, Thailand. The temple was designed and built by a local artist named Chalermchai Kositpipat, and it is known for its unique and striking architecture. The temple's exterior is entirely white and covered in intricate mirror work, giving it a dazzling, ethereal appearance. Inside, the temple features intricate and colourful murals that depict scenes from Buddhist mythology, as well as contemporary pop culture references. Wat Rong Khun is a must-see destination for visitors to Chiang Rai, and it is also a popular spot for photography enthusiasts.
Are you planning a trip to Wat Rong Khun on a budget?
When planning a trip to Chiang Rai, one of the best options for budget-conscious travellers is to stay at HOP INN. Our hotel is located just a short distance from Wat Rong Khun, and we offer comfortable, affordable accommodation that is perfect for both business and leisure travellers. Our rooms are equipped with all the amenities you need for a comfortable stay, including comfortable beds, high-speed internet, and ample parking.
Whether you're here to visit Wat Rong Khun or to explore the other attractions of Chiang Rai, HOP INN is the ideal choice for budget-friendly accommodation. Book your stay today and experience all that Chiang Rai has to offer!