Thammasat University (Rangsit Campus)
a second oldest university in Thailand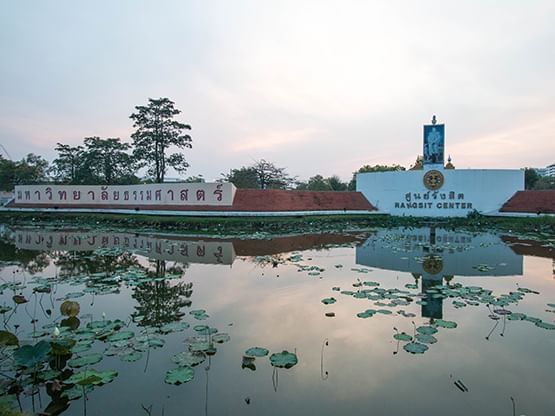 Thammasat University is a public research university, the second oldest university in Thailand which is a leading comprehensive university in Thailand. Inaugurated in 1934 with social science and humanities to serve society's thirst for modern knowledge. Thammasat, thus, has been known as "the university for the people".
Thammasat University has four campuses:
THA PRACHAN at Bangkok
RANGSIT CAMPUS at Pathumthani
PATTAYA CAMPUS at Chonburi
LAMPANG CAMPUS at Lampang

Planning a trip to Thailand on a budget?
Finding a budget hotel close to Thammasat University - Rangsit Campus, while travelling in Pathum Thani, Thailand. At HOP INN Rangsit is a perfect place for your dream planning a trip to Thammasat University - Rangsit Campus and nearby on a budget.
Discover the best value for budget trips at HOP INN Hotels - the budget hotel network in Thailand, that offer affordable prices and comfortable accommodations, including comfortable beds, complimentary high-speed WiFi, and ample parking for business and leisure travellers. Stay in the heart of every province of Thailand with HOP INN - Where your good days begin!