Wat Phra Pathom Chedi Ratchaworawihan (Phra Pathom Chedi)
one of the largest and tallest Chedi in Thailand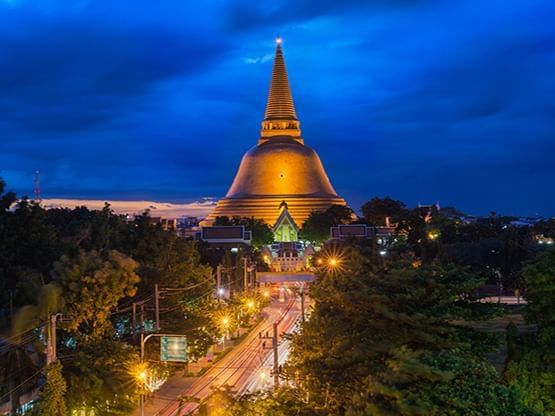 Wat Phra Pathom Chedi Ratchaworamahawihan or called Phra Pathom Chedi. Sacred things and symbols of Nakhon Pathom city, a royal temple of the first class where is located in Nakhon Pathom Province. Phra Pathom Chedi is one of the largest and tallest Chedi in Thailand. Furthermore, Phra Pathom Chedi is a place where the Buddha's relics are enshrined of the Buddha as well.
The style of Phra Pathom Chedi is a large pagoda in the Sukhothai style. Inverted bell-shaped, largemouth, which inner structure is a log, strapped with a large chain before being bricked. Decorated and adorned with tiles over the 4 directions and the glass wall on the second floor.
Phra Pathom Chedi is scheduled to have a festival worshipping Phra Pathom Chedi on the 12th day of the twelfth lunar month, 12 to the waning day, twilight, 12 months, a total of 9 days 9 nights annually.
How to get to Phra Pathom Chedi
By car: Able to travel from Bangkok by using Highway 4 (Petchkasem) through Om Noi, Om Yai, Samphran into Nakhon Pathom city and take Borommaratchachonnani Road through Phutthamonthon Nakhon Chaisri to Nakhon Pathom city
By Train: You can take the train at Bangkok Noi Railway Station and get off at Nakhon Pathom station
By Bus: Take Air-conditioned vans at the Victory Monument and Central Pinklao. The same place as the trip to Silpakorn University (Sanam Chandra Palace Campus), Bus no. 997 Bangkok-Nakhon Pathom at the Southern Bus Terminal and stop at Nakhon Pathom near Phra Pathom Chedi
Planning a trip to Thailand on a budget?
Finding a budget hotel close to Wat Phra Pathom Chedi Ratchaworamahawihan, while travelling in Nonthaburi, Thailand. At HOP INN Nakhon Pathom is a perfect place for your dream planning a trip to Thailand on a budget.
Discover the best value for budget trips at HOP INN Hotels - the budget hotel network in Thailand, that offer affordable prices and comfortable accommodations, including comfortable beds, complimentary high-speed WiFi, and ample parking for business and leisure travellers. Stay in the heart of every province of Thailand with HOP INN - Where your good days begin!