Terminal 21 Korat
a major shopping destination in the city of Nakhon Ratchasima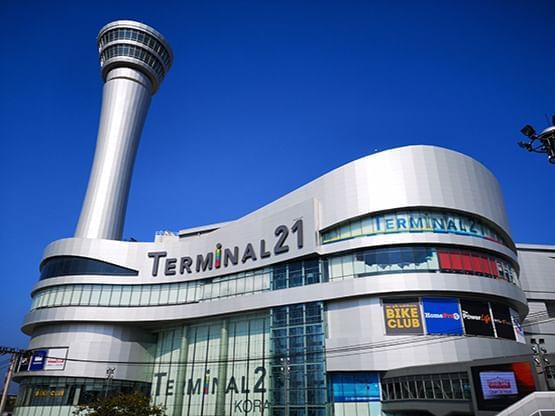 Terminal 21 Korat is a large department store in Nakhon Ratchasima (Korat). Under the concept of "Shopping Destinations" inspired by 7 world-class shopping megacities. Terminal 21 Korat connected to each other in a spectacular design from the longest elevator. Terminal 21 Korat is ready to welcome everyone from all around the world in the middle of Korat gateway to the northeast of Thailand
Terminal 21 Korat has a total height of 7 floors starting from;
CARIBBEAN STREET at LG floor
PARIS STREET at GF floor
LONDON STREET on the 1st floor
ISTANBUL STREET on the 2nd floor
TOKYO STREET on the 3rd floor
SAN FRANCISCO STREET on the 4th floor
HOLLYWOOD STREET on the 5th floor
Terminal 21 Korat has more than 700 shops serving whether it is lifestyle, fashion, dining or entertainment. Terminal 21 Korat is also a replica of the Eiffel Tower with 72 feet high, and also, the Skydeck - a 360-degree viewing tower with a height of 110 meters which is considered the tallest viewing tower in the northeast of Thailand.
Opening hours
How to get to Terminal 21 Korat
Terminal 21 Korat is about 260 Kilometers from Bangkok.
Looking for a hotel nearby Terminal 21 Korat?
Finding a budget hotel close to Terminal 21 Korat, while travelling in Nakhon Ratchasima (Korat), Thailand. At HOP INN hotel is a perfect place for your dream of planning a trip to Thailand on a budget.
Discover the best value for budget trips at HOP INN Hotels - the budget hotel network in Thailand, that offer affordable prices and comfortable accommodations, including comfortable beds, complimentary high-speed WiFi, and ample parking for business and leisure travellers. Stay in the heart of every province of Thailand with HOP INN - Where your good days begin!