Bueng Phlan Chai
a place for recreation in Roi Et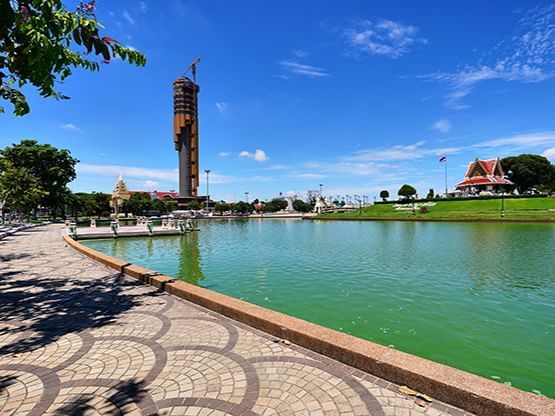 Bueng Phalan Chai (Palanchai Lake) located on Phalan Chai Road, Nai Mueang subdistrict, Mueang Roi Et District, Roi Et province where is an island in the middle of a large lake with an area of approximately 200,000 square meters, which is considered a symbol and landmark of Roi Et.
Bueng Phlan Chai is a place for recreation through decoration as a large flower garden. There are many shady plants and in the lake, many different kinds of fish. Bueng Phlan Chai has water bikes and paddle boats provided. Bueng Phlan Chai is also used as a festival venue of Roi Et, including various entertainment arrangements within Bueng Phalan Chai, there are also interesting buildings;
A city pillar shrine is a sacred object that the people of Roi Et respect
A large walking Buddha image is located in the flower garden
A statue of the Constitution atop a footed tray
A flower clock
Phu Phalan Chai (an artificial waterfall)
Animal sculptures
A children's playground and exercise areas
How to get to Bueng Phalan Chai?
Bueng Phalan Chai is located in the centre of Roi Et. Located just 2 kilometres from the Roi Et bus station.
Opening hours of Bueng Phalan Chai
Open daily 04:00 - 22:00 hrs.
Admission fee of Bueng Phalan Chai
Looking for a hotel nearby Bueng Phalan Chai?
Finding a budget hotel close to Bueng Phalan Chai, while travelling in Roi Et, Thailand. At HOP INN hotel is a perfect place for your dream of planning a trip to Thailand on a budget.
Discover the best value for budget trips at HOP INN Hotels - the budget hotel network in Thailand, that offer affordable prices and comfortable accommodations, including comfortable beds, complimentary high-speed WiFi, and ample parking for business and leisure travellers. Stay in the heart of every province of Thailand with HOP INN - Where your good days begin!