Temple of Wat Phra Si Rattana Mahathat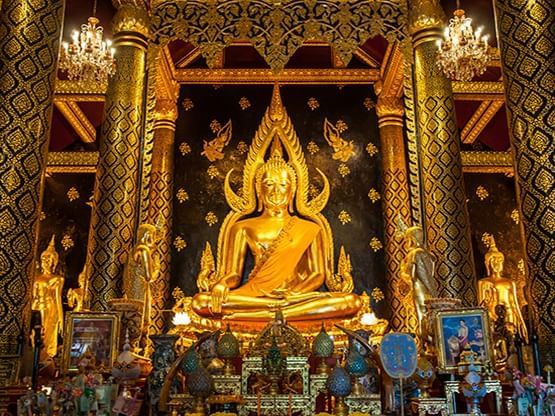 The Temple of Wat Phra Si Rattana Mahathat is known as "Wat Yai" where is located on Phutthabucha road in Phitsanulok on the eastern of Nan River and opposite Phitsanulok city hall. The Temple of Wat Phra Si Rattana Mahathat is a royal monastery of the first class, as known as the place where the Buddha Chinnarat is enshrined. The Buddha statue is regarded as the most beautiful in Thailand and regarded as a valuable cultural heritage of Phitsanulok.

Inside The Temple of Wat Phra Si Rattana Mahathat there are many ancient relics;
Buddha Chinnarat
Pearl door leaf
Temple of God entering Nirvana
Phra Attharot
Opening hours
The Temple of Wat Phra Si Rattana Mahathat: Open daily from 06:30 - 18:00 hrs.
Phra Phutthachinnarat National Museum: Wednesday - Sunday from 09:00 - 16:00 hrs. (Close on Monday, Tuesday and Public holidays)
Things to do inside The Temple of Wat Phra Si Rattana Mahathat
Dress appropriately
Women should not wear short and sleeveless shirts
Standing and taking photos of Buddha Chinnarat is prohibited
Admission fees
How to get to The Temple of Wat Phra Si Rattana Mahathat
Drive through Route 11 or 117 heading to Phitsanulok province then take Route 12 (Phitsanulok-Lom Sak Road) and head straight to the route to Phitsanulok City Hall It is about 8.2 kilometres from Phitsanulok Airport
Looking for a hotel nearby The Temple of Wat Phra Si Rattana Mahathat (Wat Yai)?
Finding a budget hotel close to The Temple of Wat Phra Si Rattana Mahathat, while travelling in Phitsanulok, Thailand. At HOP INN hotel is a perfect place for your dream planning a trip to Thailand on a budget.
HOP INN Hotel is located in the heart of each province in Thailand, providing affordable standard rooms, whether it is a comfortable bed, free high-speed internet service, ample parking space that is suitable for your business trips or vacations in Thailand.
3 Road trips near Bangkok for your long weekend
HOP INN introduce you to road trips to drive around and travel near Bangkok which you can take a deep breath of the sea air and ready to engage yourself with the famous tourist attractions.