Phra Prang Sam Yot
an important archaeological site and historical in Lopburi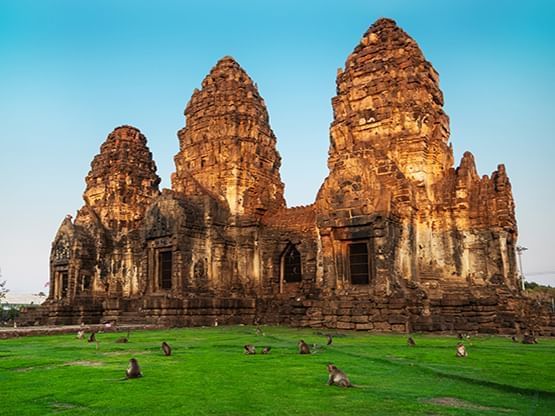 Phra Prang Sam Yot is located at Tambon Tha Hin, Mueang Lopburi, Lopburi province where is along with the Lopburi railway station near San Phra Kan. Phra Prang Sam Yot is an important archaeological site and historical in Lopburi. Phra Prang Sam Yot is considered one of the important landmarks of Lopburi. The characteristic of Phra Prang Sam Yot is the Khmer castle's style in Bayon art.
How to get to Phra Prang Sam Yot?
Private car: Take Highway No.1 (Phaholyothin Road) through Saraburi Province and enter Lopburi or take Highway No. 32 and take the national highway number 311 (Sing Buri - Lopburi Line) passing through Tha Wung District to entering to Lopburi.
Train: From Hua Lamphong Railway Station to Lopburi station.
Bus: From Mo Chit bus terminal 2
Opening hours
Looking for a hotel nearby Phra Prang Sam Yot?
Finding a budget hotel close to Phra Prang Sam Yot, while travelling in Lopburi, Thailand. At HOP INN Lopburi is a perfect place for your dream planning a trip to Thailand on a budget.
Discover the best value for budget trips at HOP INN Hotels - the budget hotel network in Thailand, that offer affordable prices and comfortable accommodations, including comfortable beds, complimentary high-speed WiFi, and ample parking for business and leisure travellers. Stay in the heart of every province of Thailand with HOP INN - Where your good days begin!