Central Plaza Chaengwattana
the most modern and comprehensive lifestyle shopping complex in Bangkok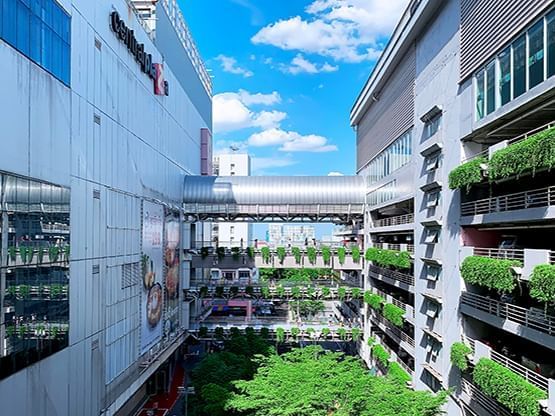 Central Plaza Chaengwattana, the most modern and comprehensive lifestyle shopping complex in Bangkok, nearby HOP INN Chaengwattana and IMPACT Muang Thong Thani
Central Plaza Chaengwattana is located on Chaengwattana Road on an area of ​​9.49 acres, managed by Central Pattana Public Company Limited (CPN), the building is located on 8 lanes, with more than 6 entrances and exits and more than 10 buses. More importantly, Central Plaza Chaengwattana is located near the U-turn point and the Si Rat Expressway where is convenient to travel and avoid traffic jams outside the suburbs.
Central Plaza Chaengwattana is outstanding in decoration technology, which takes into account the design of buildings to save energy. The project consists of 7 floors building for the shopping centre and 16 floors for the office building. Central Plaza Chaengwattana is also surrounded by government centres and offices. Central Plaza Chaengwattana can meet the needs of everyone very well. Inside the shopping centre consists of a Central department store, cinema, fashion stores, restaurants and over 300 retail stores with parking space 3,200 cars.
Opening hours of Central Plaza Chaengwattana
How to get to Central Plaza Chaengwattana
Getting to Central Plaza Chaengwattana can be reached by private car or bus: 166 (AC), 356, 51, 52, Minibus no. 1053, available to get off at Central Plaza Chaengwattana easily.
Planning a trip to Thailand on a budget?
Finding a budget hotel close to Central Plaza Chaengwattana, while travelling in Nonthaburi, Thailand. At HOP INN Chaengwattana is a perfect place for your dream planning a trip to Thailand on a budget.
HOP INN Hotel is located in the heart of each province in Thailand where providing affordable standard rooms, whether is a comfortable bed, free high-speed internet service, ample parking space which is suitable for your business trips or vacations in Thailand.
3 Road trips near Bangkok for your long weekend
HOP INN introduce you to road trips to drive around and travel near Bangkok which you can take a deep breath of the sea air and ready to engage yourself with the famous tourist attractions.