Phuket Old Town
Phuket Old Town, Sino Portuguese Building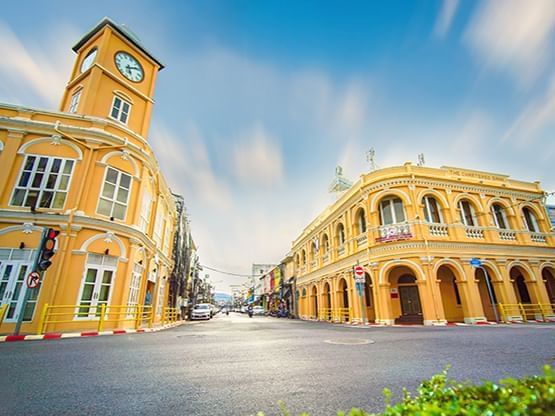 Phuket is famous for tourism in the southern provinces of Thailand. Especially, the natural attractions, whether it is a beautiful beach with crystal clear, as well as beautiful coral. Not only a natural attraction, but Phuket also has hidden cultural beauty in Sino-Portuguese architecture via the old town which is known as Phuket Old Town.
Phuket Old Town is another landmark when you are visiting Phuket. Inside Phuket Old Town is full of the beauty of Sino-Portuguese style buildings along both sides of the road. Phuket Old Town was built in 1901.
Nowadays, Phuket Old Town has been fully renovated to keep the uniqueness of traditional buildings which have been painted to be more bright and beautiful. Phuket Old Town is a very perfect place for photography lovers. Furthermore, Phuket Old Town has many restaurants and cafes for cafe hoppers.
How to get to Phuket Old Town?
A trip to the old town of Phuket is easy to access from Phuket International Airport which is about 30 kilometres from Phuket Old Town and takes about 30 minutes.
Airport Bus: Service on Phuket Town - Phuket Airport (round trip)
Van: There is a van-sharing service to go into Phuket city.
Taxi: Taxi services are available at Phuket Airport.
Car rental: Service at Phuket Airport.
Looking for a hotel nearby Phuket Old Town?
Finding a budget hotel close to Phuket Old Town, while travelling in Phuket, Thailand. At HOP INN hotel is a perfect place for your dream of planning a trip to Thailand on a budget.
Discover the best value for budget trips at HOP INN Hotels - the budget hotel network in Thailand, that offer affordable prices and comfortable accommodations, including comfortable beds, complimentary high-speed WiFi, and ample parking for business and leisure travellers. Stay in the heart of every province of Thailand with HOP INN - Where your good days begin!